EXPLORANIUM® GR-460 Mobile Radiation Detection System

Science Applications International Corporation (SAIC) is a FORTUNE 500® scientific, engineering, and technology applications company that uses its deep domain knowledge to solve problems of vital importance to the nation and the world, in national security, energy and the environment, critical infrastructure, and health.

Arka Technologies is Authorized Business Partner for SAIC in INDIA.
EXPLORANIUM® GR-460 Mobile Radiation Detection System
Radiation detection, nuclide identification, automated mapping and more, all in a rugged, mobile system for land vehicles and aircraft.

The GR-460 mobile radiation detection system is a powerful, versatile system for measuring and mapping radiation in urban and rural environments - ideal for cargo and facility security, emergency response, nuclear surveillance and military force protection.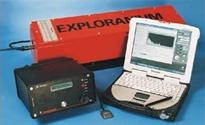 The highly sensitive GR-460 system measures gamma radiation levels and identifies a variety of radionuclides. The system is also available with neutron detection capability.
The GR-460 system is designed for use on land and in the air. Mounted on an SUV or other land vehicle, the GR-460 can quickly scan cars, trucks, cargo containers and railcars, buildings and surrounding spaces, urban and rural disaster sites, vehicle routes and other areas. Mounted on a manned or unmanned aircraft, the GR-460 can survey and map large urban or rural areas quickly and automatically.
A rugged, automated system
The GR-460 system includes a gamma detector and an optional neutron detector in a rugged hard-shell case; an analyzer unit with a digital spectrometer, data recorder and basic system control functions; and an optional rugged laptop computer with advanced display, monitoring and control features.
The GR-460 can be operated by untrained personnel or can operate unattended, transmitting data wirelessly to remote locations in real time and recording data for later analysis. The system can replay a recorded survey while continuing to collect live data.
Powerful mapping capabilities
Using its built-in GPS receiver, the system can plot radiation intensity and location of sources in real time. Map data can be transmitted to a remote operator in real time, and can be exported to ASCII, MapInfo®, ArcView GIS® and other common formats. The GR-460 can also help pilots plan and follow efficient survey routes.
SAIC - a world leader
SAIC has provided thousands of radiation detection systems for security, emergency and military applications around the world. The GR-460 system is available with SAIC's global installation, training, maintenance and technical support.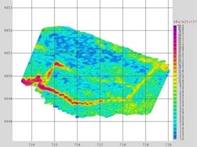 Key features
Rugged system for land vehicles and aircraft
Gamma and neutron radiation detection
Radionuclide identification
Geographical mapping
Unattended operation
Real-time wireless transmission
Real-time recording and Playback

The GR-460 software includes features for system control, spectral display, charting radiation levels, alarms, geographical mapping and much more.